Experience O-Connect, an innovative video conference software developed by ONPASSIVE. The pinnacle of virtual connectivity, offering crystal-clear audio and video, AI-powered features, limitless participation, and unmatched pricing. Unlock the power of seamless communication and collaboration.
Short Summary – What You Can Expect
This blog post provides an in-depth look into O-Connect and the company behind it, ONPASSIVE. Outstanding features, benefits, and real-world applications make this AI-powered software stand out from its competitors. From enhancing communication to ensuring data security, learn why businesses across the globe are embracing O-Connect as their go-to solution for video conferencing. Dive into our comprehensive guide and discover how this ingenious product is shaping the future of digital communication.
The Pioneers Behind O-Connect: ONPASSIVE

CEO and Company Description
At the helm of ONPASSIVE is the visionary CEO, Mr. Ash Mufareh, whose leadership has been instrumental in the development of ground-breaking solutions like O-Connect. Mr. Mufareh's foresight, coupled with his deep understanding of business and AI technology, has guided the company in transforming the digital landscape.
Established under Mr. Mufareh's leadership, ONPASSIVE is a futuristic tech organization with a strong focus on leveraging artificial intelligence for business automation. The company, since its inception, has been dedicated to crafting innovative tools that improve productivity and streamline operations across various business sectors. It thrives on a mission to simplify technological complexities and empower businesses with AI-driven solutions.
ONPASSIVE has earned a reputation for delivering high-quality and reliable solutions, with O-Connect being one of its leading products. The company's customer-centric approach, commitment to innovation, and robust support system are a few of the key characteristics that have led to its rapid growth and global recognition.
ONPASSIVE Ecosystem Description

The ONPASSIVE ecosystem is a vast and interconnected network of AI-powered tools designed to cater to different business needs. This ecosystem includes a broad range of products like O-Connect, aimed at various sectors such as HR, marketing, customer service, and project management, among many others.
O-Connect, a key player in the ONPASSIVE ecosystem, is a state-of-the-art video conference software that is designed to revolutionize the way businesses communicate and collaborate. This solution sits alongside other ONPASSIVE AI powered products like O-Mail, a web email platform, O-Trim, a URL shortner and O-Tracker, a web analytics solution to name just a few.
The uniqueness of the ONPASSIVE ecosystem lies in its ability to provide businesses with an all-in-one platform for their needs. Each product is designed to integrate seamlessly with each other, enhancing functionality, improving efficiency, and delivering a unified user experience. Moreover, the constant upgrades driven by customer feedback and emerging trends keep the ecosystem agile and aligned with the changing business environment.
The ONPASSIVE Ecosystem will continue to grow as the pipeline is never ending. The broad range of interconnected tools, exemplifies the company's commitment to empowering businesses by simplifying technology, boosting efficiency, and paving the way for growth and success. With O-Connect and its suite of other products, ONPASSIVE is not just building software; it's building the future of businesses.
Understanding O-Connect: Revolutionizing Virtual Communication

What is O-Connect?
O-Connect is transforming virtual communications. This new subscription based software is a world class audio and video conference solution that's perfect for business meetings or social meetings. You can enjoy an unmatched web conferencing experience that ensures quality and interactive online sessions.
Connecting the Globe Seamlessly with O-Connect
As virtual communication becomes increasingly pivotal in our interconnected world, the need for a reliable, high-quality video conferencing platform grows. O-Connect fills this role perfectly, leveraging advanced AI capabilities to deliver unparalleled video and audio clarity for enhanced communication.
O-Connect is an AI-powered video conferencing tool designed for global collaboration. With high-definition audio and video capabilities, it facilitates crystal clear, real-time interactions, bridging geographical divides and fostering enhanced connectivity.
Users can easily manage and monitor their activities through O-Connect's comprehensive dashboard. With a suite of carefully curated themes and templates, the platform elevates each virtual meeting, making it a personalized experience. It is equipped with numerous advanced features like a whiteboard, audio noise cancellation, a calculator, a prompter, and more, which streamline and enhance the virtual meeting experience.
Providing an easy, seamless connection, O-Connect is a testament to the power of AI enablement in transforming virtual communication. It enables users to overcome the limitations of geographical distance, making the world a smaller place.
Elevating the Virtual Communication Experience
O-Connect isn't just a video conferencing platform; it's a comprehensive solution that enhances virtual engagement on multiple levels. The platform's intuitive dashboard provides insightful data on usage and attendance, while its in-meeting chat options foster increased engagement and collaboration.
Designed with user-friendliness at its core, O-Connect is perfect for professional settings. It ensures high-quality audio and video output, delivering crystal-clear meetings devoid of interruptions. Its innovative notes and prompter feature empowers users to stay ahead in their game, promising an exceptional experience in every interaction.
O-Connect is also enriched with cutting-edge features such as speech-to-text conversion and automatic language translation. The former utilizes an Application Programming Interface (API) for accurate transcription, while the latter facilitates comprehension across language barriers.
By enabling real-time collaboration, O-Connect ensures that your virtual meetings are not just about communication but effective collaboration. It's not just a platform; it's a solution designed to make virtual connections easier, more effective, and highly engaging.
Harnessing the Power of O-Connect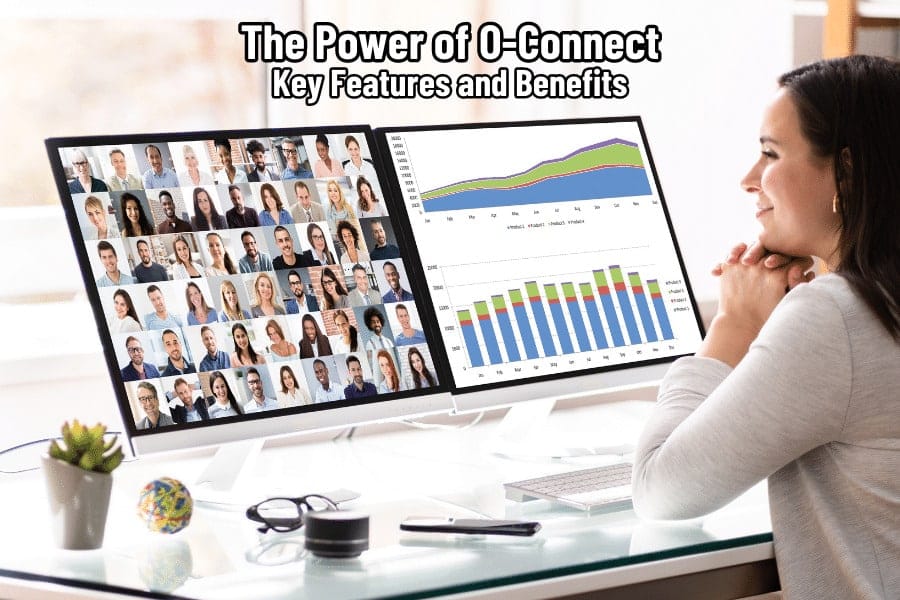 Key Features and Benefits
O-Connect's interactive and dynamic AI-powered features not only redefine the experience of web conferencing but also elevate productivity and engagement levels.
Interactive Prompter: A powerful tool that displays important notes and prompts, aiding focus and organization during online meetings.


Audio Transcription: An automatic feature that transcribes the audio of a recorded meeting or webinar, enhancing accessibility and understanding.


Efficient Timer: A tool to maintain structured, efficient, and productive meetings by providing a visual countdown of the remaining time.


HD Audio: High-definition audio quality offers unparalleled clarity and quality for a seamless conferencing experience.


Custom Virtual Backgrounds: Enhance the visual experience of your meeting with a variety of high-quality virtual backgrounds.


Expressive Reactions: Obtain instant feedback from your audience using custom expressive reactions, enhancing communication and engagement.


Noise Cancellation: Minimize background noise and distractions with O-Connect's robust noise cancellation feature, ensuring professional conferencing experiences.


Video Streaming from External URL: Broadcast your video meetings online without downloading, compatible with platforms like YouTube.


O-Connect's In-Built Calculator: Perform calculations without leaving the platform, enhancing productivity and convenience.


Real-Time Polls: Gather participant feedback and make data-driven decisions with instantaneous polling features.


Interactive Questions: Foster discussions and brainstorming with a feature allowing instant question-asking and answering.


Customizable Themes: Use a variety of themes and templates for engaging and professional presentations.


Call-to-Action: Ensure meetings lead to actionable outcomes with the ability to set up specific action items and follow-ups.


24/7 Support: O-Connect's user-friendly interface is backed by round-the-clock assistance, providing support whenever needed.


Flexible Room Sizes: Choose between an open room for all or a private room for a selected audience with password protection.


File Sharing: Enhance your presentations by sharing documents in real-time.


Unlimited Attendees: Host large-scale meetings with the capacity for unlimited attendees, breaking barriers on your reach.


Earn Commissions: You can choose to be a reseller and you can earn commissions for any subscribers that purchase O-Connect using your affiliate link. With this exciting benefit you have the potential to build a long term business simply by sharing this high demand product.
NOTE: ONPASSIVE is in pre-launch; some features and benefits may be inactive until the official launch.
Test Before You Buy: 100% FREE 14-Day Trial
14-Day FREE Trial
The feature-rich O-Connect provides an exceptional audio and video conference experience. enabling users globally to connect and share knowledge seamlessly. This state-ot-the-art video conferencing solution ensures high-quality, disturbance-free, multi-channel interactions. But don't just take our word for it; try O-Connect for yourself! Try the 100% FREE 14-day trial. Experience its outstanding capabilities, and make an informed decision before your purchase.

How To Access All ONPASSIVE Products?
To use any ONPASSIVE product you first must Join the ONPASSIVE Ecosystem, it's 100% FREE to join [Register Here]. After you register, log in, click on Marketplace, and select your product. Some are free, others have a paid option with a free trial to test before purchase.
Conclusion
In this blog post, we've extensively explored the unique facets of O-Connect, the latest video conferencing solution from ONPASSIVE, that's revolutionizing the virtual communication landscape. Through each feature and benefit, it's clear that O-Connect embodies the very ethos of ONPASSIVE – innovation, utility, and user-centricity. Let's recap the salient aspects.
Powered by AI
At the heart of O-Connect's remarkable features is Artificial Intelligence. AI powers this platform to deliver an experience that stands head and shoulders above the rest in the realm of video conferencing. From efficient prompts and accurate audio transcription to noise cancellation and seamless video streaming, AI is the driving force that ensures smooth and efficient interactions on O-Connect.
A Game-changing Video Conference Solution
O-Connect is not just another addition to the video conferencing solutions market. It is a game-changer, designed with a clear vision – to make virtual connections easier, more effective, and highly engaging. By facilitating unlimited participation, high-quality audio and video, interactive sessions, and a host of other features, O-Connect is setting new benchmarks in the industry. Its user-friendly interface, 24/7 support, and attractive pricing make it a comprehensive solution that caters to all.
In conclusion, whether you're a multinational corporation or a small start-up, O-Connect promises to enhance your virtual communication experience manifold. With its 14-day free trial, it's clear that O-Connect is committed to letting its innovative features speak for themselves. Experience this game-changing video conferencing solution for yourself and embark on a journey of seamless virtual communication, powered by AI.
Frequently Asked Questions (FAQ's)

Let's delve into some commonly asked questions about O-Connect. Please remember that
O-Connect is routinely updated, so specific details might change. The user-friendly interface incorporates familiar elements for easy usage, complemented by helpful tutorials.
What is a Webinar?
A webinar is essentially a seminar or workshop conducted over the internet, commonly utilized for sales, marketing, educational purposes, or employee training. Also referred to as video conferences, web conferences, and webcasts, webinars allow global participants to view, listen, interact with presenters, ask questions, and respond to polls.
How many events can I host on O-Connect?
You can create and schedule an unlimited number of events within your O-Connect account. While you can prepare numerous events in advance, you can only set up one event at a time.
What technology does O-Connect employ?
O-Connect utilizes WebRTC and HTML5 technology for audio-video connectivity, ensuring smooth operation and high-quality output. This cutting-edge technology delivers clear and sharp audio-video quality to your webinar audience.
Can O-Connect be integrated with Social Media platforms?
Indeed, O-Connect offers integration with popular platforms like Youtube and Facebook.
How Can I try O-Connect?
First, you need to join the ONPASSIVE Ecosystem (OES), [Register Here] for a FREE account. Include your details; full name, O-Mail ID, Alternate email ID and password. Make sure your alternate email is working as you will receive an email verification to your alternate email. After you confirm verification, you'll be registered and then you can access the 14-Day Free Trial for O-Connect from the OES dashboard.
How to create a webinar?
As a registered user, you can easily create and organize webinars from your dashboard, following the 'Schedule Webinar' menu options. Each webinar comes with a unique URL for access.
How to schedule a webinar?
Webinars can be scheduled for immediate start or for a later date by blocking the calendar.
How do I send an invitation?
Each time you create an event, the system provides an option to send invitations to your list. If an event is updated, you have the option to resend the invitation. After creating an event, registered users can add participants and presenters by clicking on "Create and Invite".
How do I enter a scheduled event or a permanent room?
When creating a webinar, choose the 'Access Type'. If 'Open to All' is selected, the webinar will be universally accessible. If 'Password' is selected, a password must be provided to enter the webinar.
Can I redirect attendees to a website post-registration?
Yes, you can guide your participants to a 'Thank you' page or any landing page by specifying a URL in the 'Call-to-Action' tab.
Who is a presenter in a meeting?
The host is the initial presenter. However, other participants can be given presenter access by the host.
Can I share files during a presentation?
Yes, document sharing is possible during a presentation.
What is the maximum number of participants in a meeting?
O-Connect supports an unlimited number of attendees for any meeting.
START YOUR 14-DAY FREE TRIAL NOW: [REGISTER TO ECOSYSTEM HERE FOR FREE]